In Brief
A new law makes "environmental infrastructure," or natural capital ranging from parks to farms to forests, part of the Connecticut Green Bank's domain. 
Now the Green Bank's looking for an executive who shares its founders' vision and philosophy, who will incorporate this work into a model that has overwhelmingly played out in clean energy finance. 
Members of the Bank's senior team talked with CFN as part of their search for the ideal leader.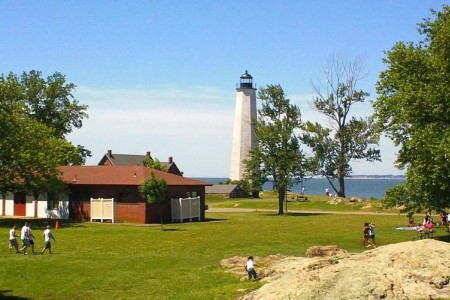 States around the nation are changing laws to clarify and speed up financing for natural climate solutions. In 2021, the Connecticut legislature approved House Bill 6441 and the expansion of its state-chartered Green Bank to finance environmental infrastructure. Now Green Bank CEO Bryan Garcia and his team are looking for a senior team member to crystallize and underwrite the strategy. Garcia says it'd be the first time the green bank has absorbed natural climate solutions, or what he calls environmental infrastructure, into its model.  
Other green banks have worked in this territory, and Connecticut's legislature entered it by defining environmental infrastructure quite broadly. House Bill 6441 encompasses land conservation, climate adaptation and resilience, agriculture, parks, recreation, and ecosystem services. All these uses could benefit from interim financing for running projects, which could be capitalized through fees or pay-for-success bonds or revolving loans. The legislature dropped a different question on Garcia's team. How do professionals value natural capital and attract more financial resources, and how do they calculate and model benefits to Connecticut's people? Garcia and his team carry plenty of ideas, but they're expecting most of the operative decisions will come once a Director of Environmental Infrastructure joins the bank. 
CFN aired some of the possibilities when we spoke in August and September with Garcia, Green Bank Vice President of Operations Eric Shrago, and Tee Thomas of Quantified Ventures. They all emphasized that the new portfolio grows from the Green Bank's initial charter to provide accessible, affordable, and targeted financing for small or overlooked borrowers.To Thomas, who is helping the Bank define and hire for the new job, the past several years point toward this new portfolio in a new context for climate finance. 
"The Connecticut Green Bank's demonstrated success created one of the key reasons why we have the Inflation Reduction Act's additional funding for green banks," said Thomas, referring to a provision of $20 billion for a national climate bank within the $370 billion climate-loaded law that passed Congress this summer. "The Bank's mission was to confront climate change by taking financing to do more with very limited public resources and mobilize private investment. For every dollar they bring in, they are able to leverage $7.50." 
How do we move away from this idea that we're going to get grants and free money to change the world?

That model has proven out with tools like retail sale of bonds and programs targeting solar + storage schemes and other fast-growing segments of the clean energy value chain. Applying it to parks, lands and farms will involve some translation. Says Thomas: "How do we move away from this idea that we're going to get grants and free money to change the world?" 
Garcia, who previously directed the Yale Center for Business and the Environment and still advises it, says he's learning about the concentric circles of benefits that parks, regenerative farming systems, and nature as a whole deliver. He notes that parks create natural barriers to climate disaster, boost health and mental well-being for people in urban communities, and safeguard biodiversity even while they avoid or reduce greenhouse gas emissions. He now wonders whether healthcare and insurance players would be wise to invest in park infrastructure - perhaps through a Connecticut Green Bank bond. 
 That education seems in tune with how Shrago describes the bill that sparked Garcia's curiosity. 
"This idea has been circulated previously, but some of the storm impacts that Connecticut has felt encouraged the Governor's office and the legislature to expand its scope," said Shrago in our interview. "Tropical Storm Isaias impacted the coastline in 2021, and many were without power for a week or more. It brought home the impacts of climate change."
On this retelling, since the state chartered the Green Bank to address climate change, expanding beyond the wires and batteries into the land and water seemed logical — but daunting, and requiring some new expertise. 
From a policy perspective, says Thomas, the challenge involves figuring out how the Green Bank's finance authority and ability to issue bonds can make the greatest impact across a broad range of environmental infrastructure projects. "The Bank met with 50 or 60 stakeholder groups, having a very broad mandate to look at climate and resilience. Everything and its brother can be considered — parks and recreation, agriculture and food waste and food security, waste and recycling." 
As they went, says Shrago, they learned that these domains need interim finance somewhat like solar and wind projects needed bridge loans in the 2000s. "We're exploring how we bring our tried and trusted tools (subordinated debt, guarantees and other credit enhancements, interest rate buy-downs, etc.) to improve access to capital at favorable interest rates," he said in an email. Compared with state revolving funds that themselves depend on federal support, the Green Bank makes a simpler capital source.
In that context, says Shrago, "we are looking at what's happening in ecosystem services markets and in carbon offsets and how to cross that over into playgrounds, forests and farms." Garcia, in an earlier interview, tied the Bank's mission to resilience and air quality for urban communities and for farmers in the state's northwest. 
Quantified Ventures, specialists in project development and finance with a special focus on health and ecology, has helped the Bank prepare courses for its leader of environmental infrastructure to explore. Thomas says: "Really, the opportunity right now is that there's been a ton of work put into the possibilities of the universe — we need to build this out into tangible projects and the concept of investing in a park is a bit out there for some." 
The Bank's search for an environmental infrastructure leader may be drawing to a close, but its exploration is just starting. "What will we do? That's the $64 million question," says Shrago, as he and Thomas cite possibilities from loans to households for rain gardens to collaboration with the state's lone stormwater utility. "The next step is to start to identify projects and needs, prioritize and work through ideas in a more applied way with a greater degree of detail."  That means hiring a leader. 
Along the way, says the team, new programs will have to harmonize with commitments to invest benefits toward redressing old failures born of racism. They'll also have to keep up with new patterns in rainfall, heat hazards, and water and air challenges. "What we are looking at is intersectional," promises Thomas. "We have heard loud and clear that we have to be better stewards of the land."