In Brief
Protecting oceans holds one climate key, but what responsible ways avail of harvesting them? 
Investors and entrepreneurs around the Pacific have advanced business models for farming food beneath the waves. 
Our correspondent listened in on a recent conference session spelling out pathways for "seagriculture" to appreciate in a carbon-constrained world.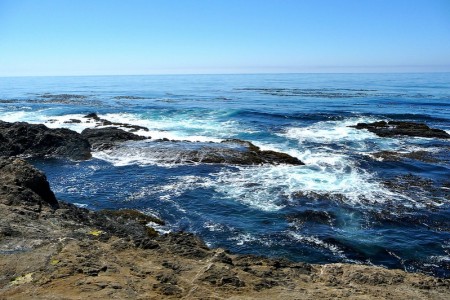 Seaweed—as a food source and beyond—has the potential to be profitable and sustainable, while supporting culturally important cuisines and strengthening the base of the marine food web. Recently, interest in cultivating seaweed, especially in the United States, has grown—but anyone interested in growing seaweed, investing in it, or processing it, could learn from the Asia-Pacific region. This region has been the global leader in seaweed cultivation. Investors and onlookers recently got a lesson. 
On February 8 and 9, seaweed experts across the world logged onto the first Seagriculture Conference Asia-Pacific. The conference focused on the growing Asia-Pacific commercial seaweed market, which has been exponentially rising for the past fifty years.
In a major session of the conference, called Seaweed Business/Investment Impacts, three panelists tackled the investment aspects of seaweed cultivation. The session focused on how this market has the potential to be profitable and sustainable, both in the United States and abroad, in areas that are already cultivating seaweed and in areas that need more investment.
Paul Dobbins, Senior Director of for the World Wildlife Fund (WWF) USA, shared insights into advanced seaweed farming in the North Atlantic, Eastern Pacific, and other geographies.
"We believe that advancing seaweed and shellfish farming can provide societal and climate gains," Dobbins said. Of all cultivated food sources, seaweed and shellfish are among the most efficient; and, seaweed provides important ecosystem services that benefit its surrounding water. Dobbins noted, though, that "seaweed farming, really, at scale, takes place in only a handful of countries." The WWF believes that the potential for seaweed is tremendous in the underdeveloped regions of seaweed farming—but these areas are challenged by barriers to growth.
WWF conducted a 24-month on-the-ground landscape scan in 23 countries that are either producing seaweed or have the potential to do so industrially. This study identified three barriers to scaling up or starting seaweed farming: (1) a need for innovation to reduce costs and enable scale, (2) a need for markets for seaweed, such as for animal feed, alternatives to petroleum-based packaging, and protein extracts, and (3) a need for social license to operate, which considers the stakeholders of a body of water and a community. Dobbins also acknowledged that there are increasing opportunities for farmers to be rewarded for seaweed carbon uptake, but noted that seaweed is too valuable as a food source to be sunken in the hopes of sequestration.
To address these needs, Dobbins explained, WWF is making impact investments in for-profit companies that are finding solutions to the challenges of scale and cost reduction. WWF has invested in Ocean Rainforest, a vertically integrated seaweed farm in the Faroe Islands, Seaweed Solutions, a vertically integrated seaweed farm in Norway, and Oceanium, a Scotland-based company working on biorefining seaweed.
Dobbins also reviewed his home state of Maine as a case study. WWF is aware that public acceptance of seaweed farming is not complete, and there has been some friction in the advancement of seaweed farming as a new industry sector in Maine. However, some fishing families have started to adopt seaweed farming practices, especially in the off-season. Although Maine is leading the country in seaweed farming, it could be eclipsed by Alaska, which is uniquely positioned to be a global contributor because it has the infrastructure, space, and government support to make a significant impact.
"We're looking at ways to advance those responsible, resilient food systems that have the least impact on the environment so that we'll have greater food security in the future and a better climate," Dobbins finished. "We look at our impact investing as being catalytic… [to] encourage others to come in and make investments as well.
Next, Koji Yamamoto, the General Manager of Japan for the Aquaculture Stewardship Council (ASC), discussed a market-based approach to transform aquaculture. The ASC is an independent nonprofit organization that seeks to connect responsible production all the way up to a market through collaboration with a wide range of stakeholders.
Yamamoto discussed the environmental and social challenges that are associated with production: impacts on the marine environment, ecosystem disruptions, reduction of genotype diversity, minimum wages, forced labor, abandoned seaweed farms, blocked sea access, and conflict with other resource users. To address these challenges and promote responsible seaweed growing, the ASC partnered with the Marine Stewardship Council (MSC) to create the ASC-MSC Seaweed (Algae) Standard. Farms that meet this standard are labeled with ASC approval.
Consumers and retailers are encouraged to buy ASC labeled food because they know it is safe and responsibly farmed, so farmers improve their operations towards the requirements, get audited and certified, then have the companies in their supply chain audited and certified.
So far, ASC has certified 21 seaweed farms, is currently assessing 29 more, and  is running an improvement program to support producers who might not be able to update and improve their practices to meet the ASC standard.
Finally, Karlotta Rieve, the project manager of Hatch Blue in Norway discussed the current global seaweed supply. Hatch Blue is a global venture aquaculture advisory business, which includes an investment unit, offers consultancy, operates a news program, and runs a startup incubation and acceleration program. Rieve provided insights into existing supply chains and new markets for a productive and scalable seaweed industry from Hatch Blue's recent Global Seaweed Project.
This project sought to assess the current state of global seaweed supply, identify novel market opportunities for farmed seaweed, and provide practical insights that will help identify and verify innovation opportunities for—and investment opportunities in—the global seaweed sector. The project produced the website SeaweedInsights.com, which is now a knowledge hub for the global seaweed sector.
Hatch Blue's two most significant findings were that at least 98% of global seaweed production comes from Asia, and that five varieties of seaweed make up 95% of global seaweed production by volume and value. Hatch Blue also found that production in established seaweed regions faces major challenges and is slowing down due to climate change, lack of technological advancement, and lack of human capital. Rieve emphasized that the solution to these challenges can be found through knowledge sharing and joint development.
As this panel demonstrated, the Asia-Pacific region can inform the rest of the world as its entrepreneurs dive into the seaweed economy. However, improvements in marketing, packaging, refining, and interactions with local communities are necessary for seaweed to become a veritably global and sustainably commodity. Smart investments—that target geopolitical regions for cultivation, scalability, consumer marketing, and identify areas for growth—this panel proved, can lead the way.