The Network periodically holds short courses focused on conservation finance topics or strategies for specific regional or practitioner audiences. Please see a list of our past short courses below.
If you are interested in sponsoring CFN to hold a short course for your organization, region, or academic program, please contact CFN Director of Strategic Partnerships Jackson Moller.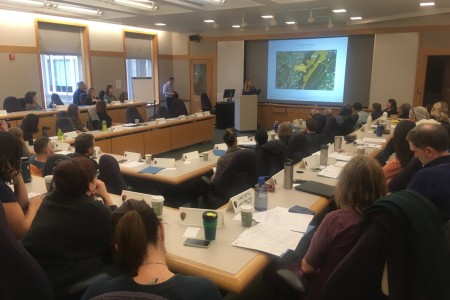 The Nature Conservancy Land Protection Learning Network
In March 2020, The Nature Conservancy sponsored CFN to hold a series of sessions for their staff and close partners on the latest trends in conservation funding and financing, as well as a project structuring workshop, at their Land Protection Learning Network conference.
Chesapeake Conservation Finance Intensive
In December 2019, CFN partnered with the Land Trust Alliance to hold a three-day, application-only Chesapeake Conservation Finance Intensive, supported by a grant from the Chesapeake Bay Trust, for land conservation practitioners in the Chesapeake watershed.
Tuck School of Business Conservation Finance Workshop
In February 2019, CFN held a one-day workshop, hosted by the Tuck School of Business at Dartmouth College, introducing MBA students to concepts in conservation finance and the conservation investment landscape.
Opening the Door to Conservation Finance: Opportunities for Federal Agencies
In November 2015, CFN held a one-day workshop, supported by the USDA Forest Service, with the objective of building institutional knowledge of federal agencies on conservation finance principles and approaches and to facilitate better coordination and collaboration among agencies.
Texas Working Lands Summit on Conservation Finance
In July 2014, CFN held a 3-day workshop to examine proven market-based conservation finance strategies from around the country and Texas that could serve to incentivize the conservation of privately-owned working lands.