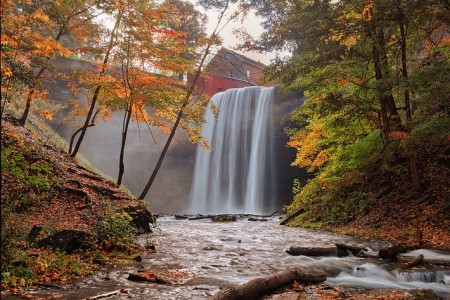 This op-ed is by Mark R. Tercek, the president and CEO of The Nature Conservancy and author of Nature's Fortune. You can follow Mark on Twitter @MarkTercek.
Around the world, water shortages are affecting communities, businesses and ecosystems.
More than half of the world's cities and three-fourths of irrigated farms are experiencing water shortages on a recurring basis. Freshwater species are disappearing as their habitats are dried up by water extraction. Looking ahead, more frequent and severe droughts linked to climate change will only exacerbate these problems.
But there's good news. With sound science and a little financial innovation, we have the opportunity to reverse these trends – and their negative economic, social and environmental consequences.
A Market-Based Solution
Water markets – which value water as a tradable asset and reward people who implement water-saving measures, allowing saved water to be allocated to other users – are emerging as a smart approach to managing water supplies more sustainably and productively. Water markets are especially effective in reducing water used for irrigated agriculture, which accounts for more than 90 percent of water consumption in water-scarce regions.
A new report by our team at The Nature Conservancy (TNC) demonstrates how water markets can help alleviate water scarcity, restore ecosystems and promote economic growth. By enabling water sharing when supplies are scarce, water markets can play an important role in building a more water-secure future for cities, agriculture, industries and nature.
In Australia, for example, a water market helped the country deal with a devastating, decade-long drought. The system led to water savings on irrigated farms. It also contributed to the survival of many Australian orchards and vineyards – as well as other perennial crops that can't be fallowed.
The Australian environment, however, particularly the Murray-Darling River Basin, didn't initially fare as well. Over the past century, large reservoirs were built for water storage, drying up ecologically important wetlands.
Fortunately, the market also provides an opportunity to acquire water on behalf of the environment. That's where creative financial solutions come in.
A Balanced Approach
Earlier this year, TNC's impact investing unit, NatureVest, in partnership with our Water program and Australia chapter, established the Murray Darling Basin Balanced Water Fund – the first investment-driven solution to balance the water needs of people, agriculture and nature. So far, the fund has raised $27 million AU ($20 million USD).
Here's how it works. Using private capital provided by impact investors, the fund purchases water rights from willing sellers. A portion of the annual water allocations are then sold or leased back to farmers, generating financial returns to investors, and ensuring that a large portion of the water remains in the hands of the agricultural community. The remainder of the allocations are donated to environmental projects in the river basin – such as restoration of ecologically important wetlands.
The fund is structured so the majority of the environmental donations will occur in years of high rainfall when farmers need the water least and wetlands would have naturally been inundated. Conversely, when water is scarce and agricultural demand is higher, more water will be made available to agriculture.
This new model, known as a Water Sharing Investment Partnership (WSIP), makes the environment a recognized stakeholder in water allocation decisions – while continuing to ensure that agricultural communities have access to the water they need.
A Scalable Model
Today, at least 37 countries in water-scarce regions have established water allocation systems, many of which could benefit from impact investment-driven solutions like WSIPs. These financial strategies can put water markets to work to provide tangible economic and environmental benefits.
Building on the early success of this work, NatureVest is now scoping river basins across the western United States and Latin America. By combining the power of water markets with creative financial solutions, we have the opportunity to significantly scale up our freshwater work around the world.
Putting a price on water won't magically solve all our water problems. But changing the way we value and manage water resources can generate important social and environmental returns, bringing a brighter water future into focus.
For more on how water markets can alleviate water scarcity, restore ecosystems and promote economic growth, visit https://global.nature.org/content/water-share
Note: The Nature Conservancy is a supporter of Network.
To comment on this article, please post in our LinkedIn group. You may also contact us via Twitter.