In Brief
To foster regenerative practices, regional support networks are emerging to train farmers in these practices' science, costs, benefits and timelines. 
Understanding the psychological, economic, and cultural motivations behind farmer decision-making is a crucial first step in designing future investment and market strategies. Viable strategies will build roots in their response to farmers' on-the-ground needs.
This article, part of the Regenerative Agriculture Initiative at the Yale Center for Business and the Environment's series, details the first key lever  to bringing forth a generation of profitable regenerative farmers. It details innovative models for supporting farmers with regional networks, training and support.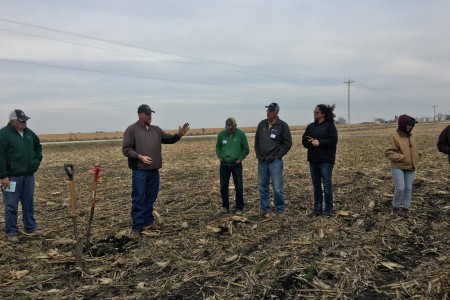 Achieving the transition from conventional to regenerative agriculture will require a major shift in the strategy and behavior of many of America's two million farmers. For a farmer, farming for healthy soils, ecosystems, communities and climate conflicts at many points with conventional agriculture practice.  Wider success comes only from the cumulative impact of individual farmers changing their on-farm practices, and resetting how they keep data, manage expenses, sell, and borrow. 
Fortunately, the business case for regenerative farming is gaining clarity. Investors in regenerative agriculture and food companies buying regeneratively-produced crops already know the link from farmers to more sustainable and profitable outcomes. In fact, many of the stakeholders the RAI interviewed emphasized the importance of identifying early adopters of regenerative practices (aka "champions"), alongside helping a wider network of farmers transition, as key elements of their funding strategy. 
Understanding the psychological, economic, and cultural motivations behind farmer decision-making is a crucial first step in designing future investment and market strategies that are rooted in reality and reflect the on-the-ground needs of the people who will ultimately carry out this transition: farmers themselves.
So what can a training strategy create? What do these farmers have in common?  Why are they willing to take a different approach than farming-as-usual? This article will shed light on farmers on the frontlines of the shift towards regenerative agriculture, the on-farm and economic barriers they face to change their practices, and the organizations investing in training and resources to support farmers along the way. 
A Hard Row to Hoe? The Cost of Transitioning
Amongst all the barriers to transition to regenerative agriculture, the cost (or perceived cost) remains a commonly cited obstacle amongst farmers and organizations serving farmers. The remaining articles in this series will address additional financial barriers facing regenerative farmers after the farm gate, including the inaccessible expense of farmland, the lack of attractive markets for regeneratively produced products, and the perverse incentives of crop insurance. 
On the farm, owners perceive a financial risk in adopting new practices. They grew up with the dominant, conventional narrative that profits are solely tied to yields. But while regenerative farming may well produce lower yields, that does not necessarily equate to lower profits. In fact, a recent study found that farms with regenerative practices were 78% more profitable than those with only conventional practices. Regenerative farmers can give up some yield if it means making more profits, which regenerative agriculture makes possible by growing higher-margin crops and reducing costly inputs. Gabe Brown is a North Dakota farmer who saved his family farm from natural disasters and crop failures with regenerative practices more than 20 years ago. Now a well-known champion of soil health, and the founder of Soil Health Academy and Understanding Ag, he declares "I will take profit over yield any day.".
Of the hundreds of farms that Brown's organizations work with to transition to regenerative practices in North America, he says they have been able to improve their bottom line on every farm within the first year. Clearly, building farmer training programs and peer networks with trusted leaders are powerful tools to dispel the profit-yield myth and support farmers in overcoming the perceived financial risk of transitioning to regenerative practices. 
Given that risk aversion, the federal government runs cost-sharing programs to lower the bill for adopting conservation practices. These include the USDA National Resource Conservation Service (NRCS) Environmental Quality Incentives Program (EQIP) and Conservation Stewardship Program (CSP). However, overall adoption remains low compared to total acreage in agriculture (900 million acres according to the 2017 Census of Agriculture). About 140 million acres, or about 15% of total farmland, are receiving conservation assistance from the federal government. 
Yet awareness of the regenerative option remains patchy. The National Young Farmers Coalition (NYFC), a farmer-led network dedicated to the success of young farmers, found in their report "Building A Future With Farmers," that many farmers simply don't know about these conservation programs. Even among presumably well-informed NYFC members, 30% of survey respondents were unfamiliar with federal conservation programs. And for those who do know about the system, 40% said that the paperwork was too burdensome, and another 28% said that working with their local USDA office was too difficult. Moreover, these types of federal programs are targeted for significant cuts during Farm Bill negotiations every four years. Therefore, if regenerative farming can grow, more informal networks will need to carry its message.
The Early Bird Gets the Worm: Early Adopters of Regenerative Agriculture
From our dozens of interviews with farmers, customers and investors, dozens of strategic approaches came into view. Some got into this from an emotional or philosophical breaking point. For them, Big Food no longer looks like a viable calling.  Small farms already face a deficit in economies of scale when they compete with big ones. Now, climate shocks mean they also face unpredictable yields and storms. 
Regenerative practices may offer an appealing economic alternative to farmers. Conventional farmers realize "they can't do it that same way anymore. They're broke, and they've hit the wall," say Tim LaSalle and Cindy Daley of the new Center for Regenerative Agriculture (CRA) and Resilient Systems at California State University Chico. "So, they're willing to take a look at [regenerative]."  Pete Nelson of AgLaunch describes this phenomenon for their network of farmers that incubate technologies in Memphis. "Everyone understands that the train we're on is not a sustainable train, even in terms of pure economics," says Nelson. Regenerative farmer Gabe Brown described a growing percentage of farmers that are beginning to realize that "they need to do something that's both better for the environment and their bottom line." That double return can seem far-off, but emerging norms can define a path. 
The academic literature, as well, seeks a new course. As described previously in this CFN article series, the definition of regenerative agriculture is in flux, so academic studies to understand widespread farmer adoption of regenerative practices are currently limited. For this series, the RAI looked at data from sustainable agriculture and conservation practice adoption, which share many of regenerative agriculture's goals and boast a fuller set of data.
For example, a recent study published by Iowa State University analyzing the literature on adoption of agricultural conservation practices in the US from 1982-2017 found a huge variety of variables positively associated with sustainable practices. Some of these variables include: farmers self-identifying primarily as stewardship motivated or non-financially motivated, environmental attitudes, a positive attitude towards a particular program or practice, higher levels of income and formal education, engaging in marketing arrangements, and positive yield impact expected. While some of these variables could be targeted for program or policy design to increase adoption, many of them are more intangible human qualities that would be much more challenging for external programs and networks to influence. 
The study concludes that practitioners and organizations working with farmers should "share benefits of specific practices and programs and leverage existing practice adoption" as a way to boost farmers' positive attitudes and awareness of conservation programs and practices. It turns out, that's exactly what many of the organizations interviewed by the RAI are doing, with their approaches described in this article. 
Farming Over the Fence: The Positive Influence of Networks and Neighbors 
To make the leap to regenerative agriculture, farmers need evidence that this approach will work and models for what transitioning actually looks like in their own region. According to the 2018 Iowa Farm and Rural Life Poll, 70% of farmers interviewed will try a new technology or practice once they've seen "a number" or "most" of their peers try it successfully.
So, how does that domino effect get started? 
Conventional agriculture benefits from the existing cooperative extension model, which has been partnering with land grant universities for more than 100 years to provide training and support to farmers, driving a feedback loop of conventional crops and dominant metrics of yield. Rather than the current one-size-fits-all approach designed to drive yields for commodity farmers across vastly different landscapes and climates in the U.S., this type of regenerative farming instead demands regionally-specific knowledge that is grounded in the nuance of particular crops grown within local climates and soils. 
So many independent organizations are attempting to build a parallel system. A network of associations and nonprofits around the country are providing resources to farmers to demonstrate how regenerative farming works, provide training in specific regenerative practices like cover cropping and intercropping, and building networks of neighbors and peers to provide support. Many describe this as moving from input intensive (conventional agriculture) towards knowledge intensive (regenerative agriculture). 
Sarah Carlson, Strategic Initiatives Director at Practical Farmers of Iowa (PFI) calls regenerative agriculture "farming with nature," and notes that "we see farmers become energized from adding in a bit more biological diversity to the dominant ag production system. PFI gets them excited about growing more than corn and soybeans!" 
PFI works to build resilient farms and communities by hosting programs and field days, conducting on-farm research rooted in farmer questions, and building a peer-to-peer network of farmers exchanging knowledge and experience. Thanks to the programs of PFI, 72% of its members report improving their on-farm stewardship practices and 75% report increasing their investment in conservation practices. This network provides role models who can show other farmers that it can actually be done.  "That connection to others seems to be a really good leverage point," says Carlson, "to get these practices off the ground."  
The power of mentors and peer networks was evident when the RAI team traveled to Iowa in November to attend PFI farmer field days on cover crops and prairie strips. Repeatedly, farmers discussed the social dynamics of farming with as much consideration as economics or mechanics. The concept of "farming over the fence" refers to your neighbors checking out your fields to see how many weeds you have, how tall your crop is, etc. In small, rural towns, the local coffee shop gossip might be Farmer Joe's new cover crop and how "weedy" it looks from the road. To farm differently in a small town is to draw attention, and not for the right reasons. Building strong networks of support, like PFI is doing, can help to destigmatize different farming practices and break down social isolation between farmers. 
The Rodale Midwest Organic Center, the first regional education center established by the Rodale Institute, is also planning to take a cohort-building approach to transitioning more organic farmers across the midwest. The brand new center, established in Iowa in 2019, hopes to find ecological and profitable solutions to the challenges farmers are facing in the midwest by combining research with individualized farmer consulting. The center hopes to build farmers' capacity so that they might eventually be ready to go through the Regenerative Organic Certification process. 
CSU Chico's Center for Regenerative Agriculture (CRA), an on-farm research center and regenerative demonstration hub, takes a similar approach on the west coast, using research to inform practice and focusing on the power of farmer role models to inspire others. LaSalle and Daley share the importance of meeting farmers where they are, especially for more conventional farmers who might not have had much exposure to conservation practices, and have questions or concerns about how to actually implement them.  Particularly for farmers who are skeptical of transitioning to a new way of doing things, LaSalle and Daley note "the unknowns weigh on people." 
CRA's role is to take away those unknowns. Their demonstration sites with partner farmers showcase farmers who have focused on soil health and become profitable. CRA has found that identifying and lifting up these kinds of farmers has been the most effective strategy for recruiting and convincing others because it proves they have "skin in the game and the economics to back it up."
In the Great Plains and Rocky Mountain region, Philip Taylor runs Mad Agriculture. The organization "helps farmers design their way out of the commodity and industrial ag system,"  he says. Taylor prefers to stay away from terms like "technical assistance" in favor of cultivating shared wisdom. Acknowledging the personal and emotional nature of farming, Mad Ag focuses on each farmer's unique values, land history, and stories. Backed by a strict non-judgement policy to work with all types of farmers, Mad Ag's Carbon Farm and Ranch Program (CFP)  designs customized 3-year conservation plans that are eligible for NRCS cost-sharing programs. This personalized approach allows Mad Ag to understand the unique, long-term needs of each farmer as well as the barriers that have held them back from adopting conservation practices in the past.
Some big players have also gotten into this close-up approach. General Mills is investing heavily in farmer training programs to strengthen their own supply chains. By partnering with Gabe Brown's Understanding Ag, General Mills has launched multiple Soil Health Academies (SHA) with oat farmers in the Northern Plains, winter wheat farmers in Kansas and dairy farmers in Michigan. Dozens of farmers form a local cohort and receive 1-on-1 coaching, attend field days, and receive technical support. The program will measure soil health, biodiversity and farmer profitability metrics to determine the success of the approach. 
Farmer demand to participate is high - each General Mills SHA has received significantly more applications than they can accept in each cohort. Anecdotally, there's a spillover effect. Local NRCS offices have shared that after a SHA program, there is unprecedented energy and enthusiasm from farmers to sign up for cost-share programs. "We feel very confident in this model of building relationships between innovators and farmers that can be leaders in their community," shares Tom Hockenberry,  the multinational's Senior Director of Nutrition and Technology.
Regenerative Investments Need to Start on the Farm
Building the regenerative food system of the future needs to start on the farm. By building strong regional farmer training programs and peer networks that demonstrate successful and profitable models, farmers will be supported in their transition to regenerative agriculture. This is a foundational lever in the system - a strong network of regenerative farmers means more farm operators for farmland investors, more regeneratively produced products to send to market, and more advocates for crop insurance reform. The other pieces in this series home in on those needs.