In Brief
The Appalachian United States bear the marks of coal extraction, including shortened lives and ravaged streams. 
A coalition seeking federal funds for the reclamation of mines is pushing new legislation. 
This piece looks at the case for reclamation, on environmental and medical and economic grounds.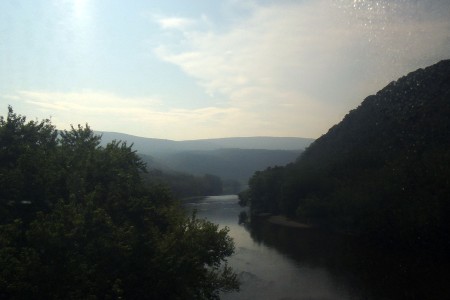 The Appalachian mountains are among the oldest mountains in the world – older than the Himalayas. From rocky peaks laced with mountain laurel to the hush of its mountain streams, Appalachia is one of North America's most biodiverse regions. It harbors rare endemic salamanders, fireflies, and countless other threatened species. Yet, in the past few decades, over five hundred peaks and an estimated two thousand miles of mountain streams have vanished due to mountaintop removal coal mining.
Mountaintop removal – a mining practice in which several hundred feet or more of bedrock is blasted away to reach coal seams beneath – has long been controversial. In addition to the economic burden of coal bankruptcies on struggling small town economies, mountaintop removal leaves scars across the landscape. Many communities remain torn between economic reliance on coal and the growing realization that the industry's ecological costs are not sustainable. In the words of late activist Judy Bonds, a famed advocate against mountaintop removal: "you can't put a mountain back – do you think you can do a better job than God?"
Although coal reclamation projects cannot always restore landscapes to a pristine state, they have profound implications for both local economies and ecology. Restoring traditional shaft mines and mountaintop removal sites has long been a critical priority across Appalachia – for the safety of people living near abandoned mine sites, and to create jobs in one of the country's most impoverished regions.
"Ensuring reclamation occurs at former coal mining sites is crucial for surrounding communities. Abandoned coal mine sites can cause dangerous physical hazards such as landslides, rockfalls, and flooding. For example, in Norton where I work, there is a highwall right next to the highway that used to drop large boulders onto the road," said Chelsea Barnes of Appalachian Voices. "The city finally got funding a couple of years ago to reclaim the highwall. That work has created jobs and made the road more safe for our community.
Barnes continues: "Open mine portals are another common problem; many such sites are located in the woods near hiking trails or even on the side of the road, where curious wander[er]s can enter these unstable caverns and may be at risk of great physical harm from sudden collapses or rock falls."
Other hazards of abandoned mine lands include acid mine drainage, methane leaks, and even small fires started by abandoned gob piles. As Appalachia struggles to transition from coal into an economy based more on ecotourism, mine hazards may hold the region back. For decades, federal law has required coal companies to set aside funds for reclamation projects – yet, despite such statutory obligations, funding has often fallen short.
The Surface Mining Control and Reclamation Act (SMCRA) of 1977 established the Abandoned Mine Reclamation Fund. Under Section 401 of SMCRA, coal companies pay into this fund through mining fees. Additionally, SMCRA authorized federal support for black lung and other benefit programs for coal miners. Environmental lawyer Jonathan Sokolow, who previously worked with the United Mine Workers of America (UMWA) Health and Retirement Funds, has seen firsthand the significance of this support. "The AML Fund has really been a lifesaver for communities in the coal fields, helping to rescue our health plans and, more recently, the pension plan as well."
As coal bankruptcies accelerate, fee collection alone may not be enough to cover reclamation costs – and has not been enough in the past.
Yet although the AML Fund has been a lifeline for many across the region, Congress allowed the fund to expire in 2021. This put coal reclamation projects across the region in jeopardy – and, despite a critical stopgap being rolled into the infrastructure bill, the future of coal reclamation remains at risk.
The passage of the Infrastructure Investment and Jobs Act this past November provided a boost to coal reclamation projects and reauthorized fee collection from coal operators through 2034. As coal bankruptcies accelerate, however, fee collection alone may not be enough to cover reclamation costs – and indeed it has not been enough in the past. In addition to reauthorizing the fund itself, the infrastructure bill also allocated roughly $11 billion in direct support of coal reclamation projects across the country. This figure is close to the federal government's past estimates on what is needed, as fee collection has fallen far short of actual costs. Yet, according to Appalachian Voices and the Ohio River Valley Institute, coal reclamation costs may actually be closer to double this amount.
One proposed bill, the RECLAIM Act, has garnered bipartisan support across Appalachia and could potentially provide further funding to coal reclamation projects. (A coalition, including local governments, supports this website campaigining for the idea.) In addition to creating jobs and helping communities transition away from coal, the potential climate impact of reclamation projects is also profound. One study estimates that methane emissions from abandoned oil and gas wells in the Ohio River Valley could produce the carbon equivalent of burning two million pounds of coal in a single year. Plugging these wells would be costly but could generate significant reductions in emissions over time. Additionally, such funding could potentially offset job losses in the oil and gas sector with new jobs in reclamation and restoration.
Fully funding abandoned mine land reclamation is not only lifesaving for local communities, but can also provide a just transition for coal miners and other fossil fuel workers. Furthermore, more funding would mean that projects are able to meet to the needs of local communities, and respond to local ecology.
"Mine portals are a habitat for bats and other creatures, so reclamation projects need to be sure portals are closed in such a way that still allows wildlife to enter," explains Chelsea Barnes. "To date, some states have such inadequate funding to reclaim abandoned mine lands that they typically are only responding to emergencies (such as landslides), and cannot be proactive about reclaiming sites. Waiting for sites to become emergencies makes them more expensive than being proactive about reclamation, but it's hard for states to prioritize." Additional funding could allow reclamation projects to adopt a more proactive approach, and address conservation challenges beyond imminent risk of harm.
It remains to be seen what the future of the AML Fund will be, but the fund in its evolving form serves as part of a just transition away from coal. The price of putting a mountain back is high – but, across Appalachia, many on both sides of the aisle increasingly agree it is a price worth paying.