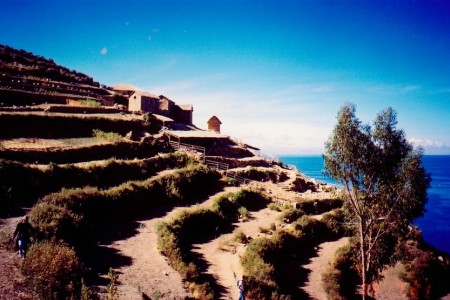 It's our pleasure to share these insights from Mauricio Nuñez Oporto,  a rising conservation leader working across several organizations in Peru.  We hope his summary and seriousness help you focus on refining the metrics you use, the partnerships you seek, and the patience you master. Enjoy.
- LW
It was my pleasure to join more than 25 experts convened by the Network (CFN) at the Warner College of Natural Resources at Colorado State University and the Haub School of Environment and Natural Resources of the University of Wyoming for their annual Conservation Finance Boot Camp. As the leader of an emergent conservation organization that works to develop landscapes and build a pipeline for restoration businesses led by indigenous peoples in Peru, this opportunity to study and co-organize amongst global leaders in conservation finance was truly transformative. I walked away from a week of lessons learned armed with a new set of tools and perspectives to further my aim of empowering my people to protect our sacred lands.
The Boot Camp focused on a range of topics within the field of conservation finance, including ecosystem services, market development and maturity, public funding, state revolving funds, debt, federal-private partnerships, outcomes-based finance, and the state of international conservation finance. It was an all-encompassing, fast-paced week that shed insight into leading-edge conservation finance.
What I endeavored to learn from the Boot Camp was how to use project finance to accelerate pipeline development, how others aggregate projects for scale and markets, and which innovative financial structures and vehicles can pass equity and justice back to land stewards (e.g. self-liquidating equity). I discovered answers to those questions, and more, through case studies and extensive dialogues with folks who are just as invested as I am in the future of our planet and people. In the end, I uncovered a range of strategies that generate, manage and deploy financial resources, and align with purposeful conservation outcomes.
Through my experience networking with senior leaders, I learned that collaboration is an incredibly successful measure of how the landscape of conservation finance is progressing. While immersing myself in the pathways and tools being used by current practitioners, one thing, in particular, stood out: the immense collaborative capacity these development projects require to refine the design, proof of concept, and implementation. Ultimately, everyone plays a role in the building of this ecosystem/landscape of conservation finance, and that is why collaborative gatherings like the Boot Camp are so essential.
I was most fascinated by the diversity of participants and their own competencies in moving finance as a tool for conservation outcomes. Some were new to conservation but found innovative ways to deploy the financial instruments in their toolbox, while others were seasoned conservationists eager to explore new ways of using the traditional tools already out there. From bankers and carbon developers to trust managers, all had a passion for the development of the field of conservation finance.
Amongst those that attended, there was a sense of camaraderie as we convened to address a dedicated case study and aggregate practitioners for participant projects, and excitement surrounding the potential pathways we as landscape developers can activate to accelerate our projects. The challenges we tackled encompassed a broad scope. They included financing fishery improvement projects, an integrated capital fund, a facility for African restoration entrepreneurs, and large land acquisitions for shortgrass prairie habitat conservation.
At a time when it's critical to meet the world's most urgent challenges, such as climate change and biodiversity collapse, cross-cultural tools and practices are more important than ever.
My peers also shared their thoughts on the role foundations can play in leveraging other sources of capital and finance. By using their balance sheet as guarantees, and implementing other instruments project developers need, they can often bridge the project finance pathway in a cohesive way - and at an accelerated pace. I really liked CFN and Gordian Knot Strategy's Arch Framework, which aims to boost the efficiency of capital deployment and appeal to private conservation investment by establishing a common language that can translate project elements into success metrics. At a time when it's critical to meet the world's most urgent challenges, such as climate change and biodiversity collapse, these cross-cultural tools and practices are more important than ever.
From radical to conservative, our innovative financial instruments and capacities have the power to shape how we treat, protect and save our planet. And through collaboration and earnest organization of our skills and investments, we, together, can flip the script. The Conservation Finance Boot Camp may be just another tool in our arsenal, but it is an important one. I have found that the sharing of knowledge, across boundaries of vocation and national origin, has the most profound impact on our success in landscape development. And for this, I am grateful for the opportunity to participate in such a wonderful convening of leaders and look forward to witnessing the future efforts shared amongst us all.
Note: Mauricio's participation at the 2022 Conservation Finance Boot Camp was generously sponsored by the International Land Conservation Network.