In Brief
The farm finance system faces challenges ranging from its association with harmful fertilizer to its history of structural inequity. 
The biggest challenges arise from the climate crisis, which has started disrupting how farmers do their work. 
A new loan product from Environmental Defense Fund and Farmers Business Network seeks to motivate farmers, and lenders, to embrace climate-smart practices at scale.  Our writer investigates.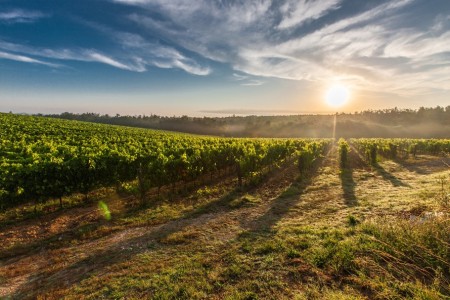 Climate change is mutating the natural world, and these changes have had unexpected effects, including farm operations and farm loan lending. A partnership of the Environmental Defense Fund and Farmers Business Network has created a loan product to reward farmers for practices that increase climate resilience and soil health. This January, the partners launched the pilot Regenerative Agriculture Finance Fund (RAFF), one of the first financial products of its kind. Enrolled farmers who meet EDF's soil health and nitrogen efficiency standards will gain access to a 0.5% discount on the base rate of a one-year line of credit.
This product, years in the making, responds to inefficiencies in today's farm financing. To understand its ambitions, remember that the system arose nearly a century ago to address the economic problem inherent in farming: farms need significant initial investment in order to make revenue. But farm revenue is highly variable year over year, so traditional investors, like banks, worried that they wouldn't be able to pay off any loans.
By the early 19th century, the United States didn't have enough farms to provide its population, especially in the west, with a reliable food supply. In 1916, the federal government established the Farm Credit System to provide long-term, fixed credit to agriculture and rural America.
Glen Smith, the current CEO and chairman of the Farm Credit Administration, the regulatory agency for the Farm Credit System said, "I don't think Congress would have been very surprised to know that this cooperative organization—meaning it's owned by the borrowers, owned by the stockholders today—is the leading provider of ag financing to rural America."
While more farm financing allowed farms and farmers to succeed, it had unintended environmental consequences. After Fritz Haber discovered how to fix nitrogen during World War II, farmers started using their loans to purchase nitrogen-based fertilizers—and now they're ubiquitous. In 2018, 98% of corn grown in the US was fertilized with nitrogen, as was 78% of cotton and 88% of wheat.
These fertilizers increased farm output, but they also contributed to climate change by emitting the greenhouse gas nitrous oxide. In 2012, scientists at UC Berkeley proved that nitrogen fertilizers increased the amount of the greenhouse gas nitrous oxide in the atmosphere. Industrial farming, the Intergovernmental Panel on Climate Change found, emits 23% of total greenhouse gases. Nitrogen and phosphorous harm local water quality, and conditions like hypoxia in the Gulf of Mexico. That condition, in which water runs short of oxygen, can kill many kinds of marine life. 
While the farm credit system has aimed to support farmers, ranchers, and rural communities with consistent credit and financial services, it is important to acknowledge that minority communities and especially Black farmers have historically been excluded from grant and loan offerings.
Today, farmers and sustainable agriculture proponents are aware of these issues. They also know how to prevent pollution with no-till management, crop rotation, and other healthy soil techniques. But it's financially and logistically difficult for farmers to shift from industrial farming to healthy soil practices. The RAFF aims to resolve this dilemma. It financially rewards practices that, among other things, offset the greenhouse impact of nitrogen.
The partnership also tries to motivate farmers to prepare for weather volatility. After all, farm practices that diminish greenhouse gas emissions have the potential to produce more crops more consistently, withstand more environmental fluctuations, and decrease the cost of production. This method of farming, which aspires to sustainably provide food security under climate change, is termed climate-smart agriculture.
Nowadays, leading organizations like The World Bank, the Rainforest Alliance, and the United States Department of Agriculture (USDA) advocate for a climate-smart ag transition, and they emphasize that if farmers made the switch, they would undoubtedly benefit.
Most farmers, though, aren't.
"One of the great problems of farming is transition," said Dr. Peter Carstensen, an observer of changing farm economics and a professor emeritus at the University of Wisconsin law school. "But a financial incentive can induce you to do things that a rational farmer is going to do anyway. It would help make that change less risky."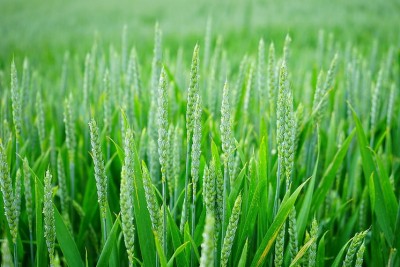 This reasoning inspired the global environmental nonprofit Environmental Defense Fund to develop the Regenerative Agriculture Finance Fund. By financially incentivizing farmers to switch to climate-smart ag practices, EDF could support the farmers, build climate resilience, and decrease greenhouse gas emissions. And, their research on measuring excess nitrogen through a system called "nitrogen balance" could provide farmers with a comprehensive toolkit.
To the Farmers Business Network, a late-stage venture-backed startup that helps its 35,000 members maximize their farm's profit potential, an incentive to transition would fit and expand its mission."With the data that growers were sharing for the ability to improve their return on investment, we had the information to run a number of environmental models to be able to assign environmental scores," said Steele Lorenz, Head of Sustainable Business at FBN. "And then we were approached by a number of growers saying 'Hey, I farm with all the soil health practices that people say they care about. How can I show that my farm is better than it's getting credit for today?" When consumers and food businesses started demonstrating their interest in where farm products were coming from, FBN saw the potential to connect green capital with farmers whose work had demonstrably better environmental outcomes.
In 2021, the two organizations collaborated to design an incentive program. EDF would determine what environmental metrics farmers must meet in order to qualify for the loan. This includes soil health practices, like no-till farming. FBN would process and review applications, originate the loan and provide loan services, and leverage Gradable, its digital platform for farmers to share information about how they're farming so that they could benchmark against each other, as a hub for farmers to upload their environmental and soil data.
In order to truly finance a climate-smart transition, farmers could stack the rebate with other incentives, like carbon credits or supply chain sustainability initiatives.
By 2022, the two organizations confirmed the logistics: the $25 million pilot Regenerative Agriculture Finance Fund could support 30-40 farmers who either already practice climate-smart agriculture or who are transitioning to it within the year. The fund could supply an annual operating loan at an interest rate set by FBN based on the farmer's credit history. By the end of the year, farmers could receive a 0.5% rebate on the loan if they met nitrogen environmental criteria set by the Environmental Defense Fund. It's this rebate, plus the recognition of being a climate-smart farm, that the two organizations hoped would attract farmers.
FBN is currently processing applications, and in the next few months, the first cohort of RAFF will be selected. In a year, farmers will harvest their crops and start paying back their loans. After the loans are fully paid off, EDF will measure their environmental effects and determine if farmers qualify for the rebate.
This rebate isn't expected to subsidize a farmer's transition to new practices, but aims to factor in the financial and environmental value that the farmer is generating. Monast and Lorenz emphasize that a 0.5% rebate is substantial enough to incentivize farmers, but, with an average loan size of $600,000, farmers would only be receiving an extra $3,000. In order to truly finance a climate-smart transition, farmers could stack the rebate with other incentives, like carbon credits or supply chain sustainability initiatives.
Still, Paul Dubravec, a risk advisor for the risk management firm Advance Trading Inc., was dubious that the financial incentive would amount to enough to compel the vast majority of farmers to change their practice. "It's pretty detailed on how to do [the soil health practices], and I'm not sure most producers today, at a half percent, are going to see value in that." Dubravec noted that US producers are one of "the biggest conservationists in the country today," and the rising price of fertilizer is incentive enough to "make darn sure that this stuff is put in at the right time and has the least amount of leaching."
RAFF is a pilot program, and the results of this first year will allow FBN and EDF to evaluate how to improve the system. The partners will assess their ability to track data, farmers' response to the incentive, and the overall environmental and financial performance of the loan. "This is just a huge leap forward, especially on the data side," said Monast, "but it's also testing a pretty straightforward incentive in the marketplace."
"We saw pretty quickly that a lot of our hopes and expectations for grower demand were much better than expected, which rarely happens as you're rolling out a new product," Lorenz said. In the future, FBN could underwrite the loans itself, instead of relying on large ag-finance institutions. It hopes to grow to a $500 million fund, offer additional financial products, and broaden the operating loan to be for multiple years.
From a financial perspective, Lorenz noted, RAFF is a worthwhile investment for those large ag-finance institutions. By adopting practices that help with resilience, Lorenz said, "these growers are fundamentally a lower credit risk."
Dubravec raises a weakness: "Sometimes you have producers that will try to save a penny or a nickel here or there," and the half percent rebate might appeal to them. But, "the question you have to ask yourself," he said, "is 'Are those producers that have a bad balance sheet and they're just looking for anything they can get, and this is one way they may be able to get more favorable financing that they wouldn't get anywhere else?'"
Of course, any operating loan carries some suspicion - not least because Black farmers raised a federal class-action lawsuit 25 years ago. Rosanna Bauman, who farms 1275 acres of corn, soybeans, alfalfa, and oat in Kansas, is wary of operating loans generally. Her farm didn't qualify for operating loans until after a decade of operation, and to Bauman, it's a blessing. "Because they are a dangerous tool. Very, very beneficial, or you can turn your farm upside down with them."
Today, her farm uses operating loans sparingly, to get through its two annual tight times. Yet when I asked Bauman what she thought of RAFF, she was interested in learning more, and perhaps applying. "It's important," Bauman concluded, "to encourage farmers to educate themselves on their financing options. Because we don't realize that we're feeding our communities, stabilizing our communities, stabilizing our soils and the planet. We need to have the confidence that we are good investments–farmers are a good investment and a necessary investment–and we need to educate ourselves on the best way to get the operating loans to work for you, not against you." The RAFF aims to build, and document, ways to get operating loans to work for all stakeholders.